Speaking Series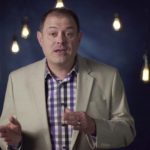 James (Jimmy) DeGroot
People Trainer & Jewelry Marketer, Owner of Jewelry Marketing Guy & JewelryStoreTraining.com
TOPICS
Speak Their Language – In this keynote, presented in his charismatic style, Jimmy tells business owners and managers how to get people to do what we want them to do by speaking THEIR individual language.  One of the biggest reasons for turnover and general unhappiness is that we all have different motivations.  This talk is a humorous approach to learning and speaking the language of each person in order to properly motivate them to success.  This message also translates perfectly to customers and speaking THEIR individual language for greater success in closing sales.
Killer Marketing for Jewelers – Jewelers are very good at being jewelers, but very few are good at being marketers, because when we're spending marketing dollars we believe there are certain elements that we must have in our messages.  Jimmy points out what our potential customers TRULY want in a jeweler and how to convey that message that is so important to THEM.  Jimmy teaches jewelers to tal to these potential customers in a way that bypasses all the ad-speak mumbo-jumbo in the world so that their message cuts through and creates action.
Create a FRIEND first – In this talk, we look at successful national brands that have developed raving fans and how they do it.  Then we learn how the independent jeweler can do these same type of things that create friendships and advocates before they even walk through the door.  Then when they DO become fans, we discuss ways to leverage that relationship to build even more fans.
Super Clientelling – Jimmy tells stories from his 20+ years in the jewelry business of super salespeople that have developed super fan bases and beautiful referral systems.  Every jeweler's desire is for their people to act like a business within a business.  This talk inspires salespeople to grab the reigns create raving fans and referrals.
PAST SPEAKING ENGAGEMENTS
IJO – Tampa
RJO – Indianapolis
Australian Jewellery Fair – Sydney
Continental Buying Group (CBG) – Orlando
Preferred Jewelers International – Orlando
EXPERIENCE
Jimmy began working for an independent jeweler in Neenah Wisconsin  in 1994.  He moved to Avenue Jewelers in Appleton Wisconsin and became store manager and marketing specialist.  Soon Jimmy moved up to a fledgling store that the partners had acquired in Wausau Wisconsin (Jim Kryshak Jewelers).  Working closely with partner Larry Rickert, Jimmy and Larry took the store to triple its volume with the help of training from many sales trainers, consultants and the Wizard Academy of Marketing in Austin TX.
From there Jimmy has been asked by several jewelers to do store training and marketing consulting.  His many experiences with jewelers at all levels have given him the content and knowledge he now enjoys passing on to to jewelers.  His dream is to help  jewelers raise to the level they've always dreamed of.
Currently, Jimmy is a trainer of many jewelers through his video series Jewelry Store Training.com.  He maintains a large following on his blog site Jewelry Marketing Guy.com and he is also a partner in Creative Edge Productions, a video production company located in Green Bay Wisconsin.